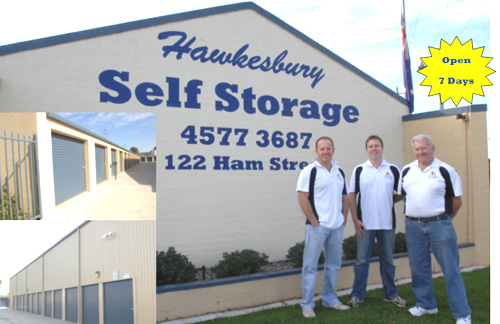 Hawkesbury Self Storage is fully owned & operated by John Kelly, a local Hawkesbury resident since 1961. Hawkesbury Self Storage commenced operation in 1987, then from humble beginnings has grown to over 750 units in facilities at South Windsor & North Richmond.
We believe that there are 5 reasons that combine to make Hawkesbury Self Storage.
"The Best & most Competitively priced Self Storage facility in Sydney"
Our Rates: Compare our prices and start to save right away. We have the right size unit to suit all customers at the most competitive price.
Experience: John & his team boast over 100 years combined experience in service related industries, and over 50 years directly in the self storage industry.
Our Unique Design: Our self storage facilities are purpose built to make it easy as possible for you to use our facility. Over 70% of our units are ground floor and have drive up access.
Resident On Site Specialist Managers: We believe we provide the highest level of customer service and security, resident on-site managers are a must.
Security: At Hawkesbury Self Storage security is one of our highest priorities.
Security Includes:
Video surveillance
Digital Entry & Exit
Alarmed Units with back to base monitoring
Resident On site Managers
Constant area Surveillance
Security Lighting
Alarmed entry & exit gate
Secuity Patrols, (3 times nightly)
Renovations  2018-19
We are in the process of a complete make over of our original self storage site at 122 Ham street South Windsor that opened in 1988.
All 337 doors will be replaced with shiny new , easy opening roller doors
Each unit will also have alarms fitted plus we are installing additional latest technology CCTV camera`s around complex.
The entire complex will also be freshly painted .
These changes will bring our original facility up to the same high standard as other our facilities at 110 Ham street and 9 Charles street.
Stage 1 .Approximately 340 new easy roll doors and alarms installed,.
Stage 2 – Goanna Painting who will be painting the entire complex over the next few weeks .
The new colour definitely compliments the new roller doors
Stage 3 has also commenced
We take security seriously so we have also installed individual alarms to each storage unit plus the latest CCTV system is also being installed to ensure your peace of mind while storing with us
Meet the Staff
John Kelly

The Boss. You will always see John keeping things tidy & making sure everyone's happy.
John is a pioneer in the self storage industry within Australia, starting out in 1988 with just 50 units. Hawkesbury Self Storage now has over 750 units available for rent.

Tony Bennett

Tony is usually your first point of contact as well as the person you will deal with the most. Tony is responsible for everything. He will always give you the best deal & look after your needs personally & professionally.
Tony has been managing Hawkesbury Self Storage for over 11 years now and his commitment to his customers is second to none. Tony's knowledge of the industry is comprehensive and he can help with all of our enquiries from unit sizes to the best way to handle and transport your goods.

Stewart

Stewart has a long standing involvement with Hawkesbury Self Storage as he and wife Traci were the first on-site managers way back in 1988. Stewart returned to Hawkesbury Self Storage in 2002 and now has a full time role overseeing operations as well as project managing the new Nth Richmond storage site improvements.