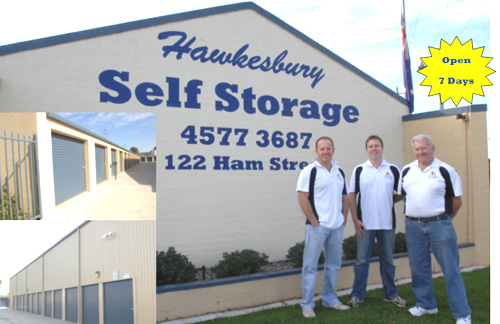 Hawkesbury Self Storage is fully owned & operated by John Kelly, a local Hawkesbury resident since 1961. Hawkesbury Self Storage commenced operation in 1987, then from humble beginnings has grown to over 750 units in facilities at South Windsor & North Richmond.
We believe that there are 5 reasons that combine to make Hawkesbury Self Storage.
"The Best & most Competitively priced Self Storage facility in Sydney"
Our Rates: Compare our prices and start to save right away. We have the right size unit to suit all customers at the most competitive price.
Experience: John & his team boast over 100 years combined experience in service related industries, and over 50 years directly in the self storage industry.
Our Unique Design: Our self storage facilities are purpose built to make it easy as possible for you to use our facility. Over 70% of our units are ground floor and have drive up access.
Resident On Site Specialist Managers: We believe we provide the highest level of customer service and security, resident on-site managers are a must.
Security: At Hawkesbury Self Storage security is one of our highest priorities.
Security Includes:
Video surveillance
Digital Entry & Exit
Alarmed Units with back to base monitoring
Resident On site Managers
Constant area Surveillance
Security Lighting
Alarmed entry & exit gate
Security Patrols,